Takashi Murakami Launches the New Day Project
13 March, 2011
Having been forced to cancel the art fair GEISAI#15 due to the effects of the Tohoku-Pacific earthquake, Takashi Murakami sought to test the power of art to provide encouragement to a shell-shocked Japanese society. Harnessing the network of artists built over ten years of holding the fair, he put out a call on twitter for artists to submit artworks containing messages for the victims. These works were submitted with the hashtag #newday_GEISAI.
There will always be a new tomorrow.
There will always be a new dawn.
A New Day.
A healing point for those artists who had lost the outlet for their energy. It was with this function in mind that the New Day project began.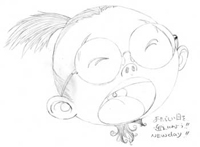 Drawing by Takashi Murakami that became the first work submitted to New Day.